On March 4, 2013, the Palo Alto City Council ratified the Carbon-Free electricity
proposal with a unanimous vote. This means that retroactive back to January 1, 2013, the City of Palo Alto is providing 100% carbon-free electricity to all of its customers.
City of Palo Alto Press Release
City of Palo Alto Utilities: Carbon Neutral Portfolio
Check out the Press page to see more of the media coverage we've garnered!
What's Next?
At the March 4, 2013 city council meeting, Carbon Free Palo Alto also called for a 60% reduction in the City of Palo Alto's greenhouse gas emissions in the next 10 years. We'll need your help in achieving this incredibly ambitious goal. Sign up as a supporter to learn how and stay informed!
Lifecycle Analysis for Fuel-Switching
Here's a link to a portfolio of spreadsheets that perform life cycle analysis on fuel switching for EVs, hot water heaters, and furnaces. The three base spreadsheets are pre-populated with the relevant numbers for City of Palo Alto Utilities, PG&E, and Silicon Valley Power – 9 spreadsheets in total.
https://www.dropbox.com/sh/yint62e96ns1l2u/D0sy8fX9QY
EV vs Gas Vehicle Summary
Here's a link to a summary table that shows the lifecycle costs and emissions for a number of popular EVs and gas-fired vehicles. A key comparison is between a Leaf and a gasoline powered Versa – which is quite similar to a Leaf. The Leaf costs $10,000 less over the lifetime of the vehicle – assuming a 10 year lifetime and 100,000 miles.
https://www.dropbox.com/s/hfewibth2saj664/About%20EVs.pdf
EV Week 2013:  Palo Alto
At the EV Week 2013 event in Palo Alto on Sept. 25, Mayor Greg Scharff issued a proclamation which starts with:
"WHEREAS, Palo Alto Carbon Neutral Electricity portfolio makes our city one of the greenest cities in America with one of the highest concentrations of electric vehicle ownership in the nation,
and;
WHEREAS, Palo Alto encourages the use of electric vehicles along with other sustainable
technologies to meet its goal of reducing carbon emissions by 60 percent in 10 years, "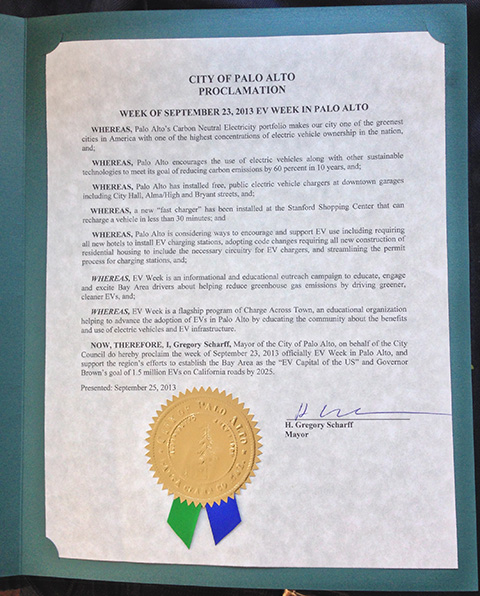 We're very pleased that the mayor is reflecting our goals!
Tweet This Post